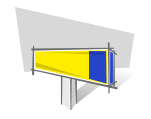 We produce banners of the desired size suitable for different communication objectives.
.Advertising, for events and events.   No size limit   .Installation with crane   .Maximum quality printing  .Multiple frontlit or mesh pvc materials (windproof micro-perforated), backlit (backlit), canvas or flag
Contact us for more information
Our experience at the service of your communication.